Please look under "About Us," or click here, to see our updated Photo Gallery.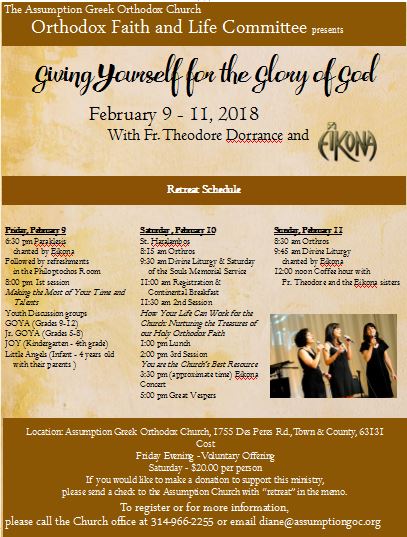 ____________________________________________________
Sundays: Orthros (Matins): 8:30 AM | Divine Liturgy: 9:45 AM followed by a fellowship coffee hour in our community center.
For weekday services, click on the calendar tab above, or call the Church office at (314) 966-2255.
Consecration and 75th Anniversary Album:
To view the digital version, click here.

Upcoming Events:
Please click here to view a full list of upcoming events.
Sunday of Orthodoxy
Sunday, February 25th, 5:00 pm at St. Nicholas Greek Orthodox Church

Giving Yourself for the Glory of God
Spiritual Retreat
February 9-11, 2018
With Fr. Theodore Dorrance and EIKONA
For more information about the retreat schedule and cost, click here.
For information about the guest speakers, click here.

Tea with His Grace Bishop Neofitos
Saturday, February 17, 3 - 5:00 pm followed Great vespers at 7:00 pm
at St. Thomas the Apostle Orthodox Church

Annual Apokreatiko Glendi
A fun family evening for everyone!
Saturday, Febraury 17, 6:00 pm

Liturgy of the Presanctified Gifts
Presided over by His Grace, Bishop Neofitos of Nyeri & Mt. Kenya
Wednesday, February 21st, 9th Hour at 5:30, 6:00 pm Presanctified Liturgy
Stewardship Donation
Making your stewardship donation on line is easy, safe and secure.
---